New Tech Tool: the APPIC Application
October 12, 2017
Features of AppiC: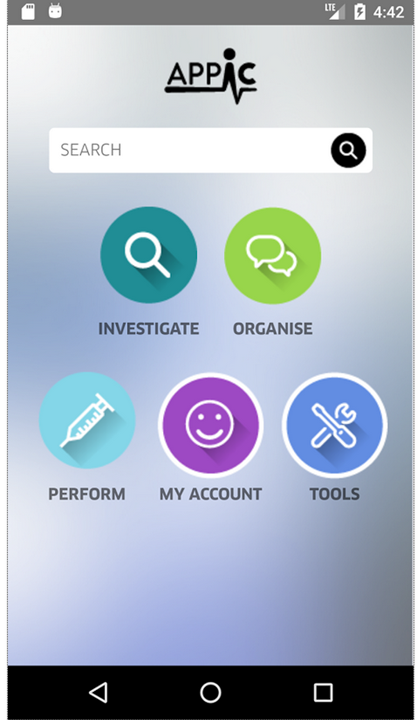 77 articles

22 pharmacology
56 articles (perform / investigate / interact)

Plus 26 articles + 12 pharmacology coming soon(!)
14 topics on a toolbox (calculators + tables)
Topics
Biological exams / Imagery / Evidence based Nursing
Patient's experience / Families' experience / Intra-hospital organisation
Neuro / Psychosocial / Lungs & Ventilation / Cardiovascular /Infections / Digestive tract / Renal tract / OBGY / Haemato & immuno / Metabolic & Endocrine / Skin muscles bones
N&AHP Committee member Anne-Sophie Debue discusses the newly launched Smartphone Application AppiC, a tool designed by nurses – for nurses to help patients at the bedside.
For more information see: https://www.esicm.org/ictv-introducing-the-appic-app-enews-sept-25-dubue/
New Spanish Representative - Alicia San Jose
September 4, 2017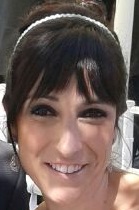 EfCCNa is happy to welcome the new Council representative from Spain: Dr. Alicia San Jose. She is the successor of Victor Gomez-Simon who worked with EfCCNa the last two years. Thank you very much for your contribution and your company, Victor.
Dr. San José is a lecturer at the TecnoCampus Mataró-Maresme Foundation in Barcelona, Spain. She was born in this medium size city in Spain, but soon she discovered this town would become small and needed to search out for more experiences.
Before her career took the twist into the academic field, Alicia had gained clinical intensive care experience in different Europeans countries. She began by an Erasmus exchange in Sweden, continued with 4 years of professional nursing work in England, continued with another 3 years in Paris to finish doing clinical intensive care research with a potent group in one of the best research hospitals in Spain, the Hospital Clinic in Barcelona.
The fact of working in different countries allowed Alicia to learn English and French, and when she got back to Spain went back to University as a student to do Translation and Interpretation Studies gaining the sworn translator and interpreter nomination for English and French languages.
Her first experience as a lecturer was in the University of Valladolid where not only her teaching skills were tested but also her management by, not only being the responsible person for a Practicum, but also the International Relations Coordinator for the College of Nursing.
She adores her profession, the students, and thinks nurses can achieve great things with the adequate support and training.
EfCCNa editorial in 'Nursing in Critical Care' published
August 25, 2017
The European federation of Critical Care Nurses association (EfCCNa) and MICE-ICU Project group members Eva Barkestad (Sweden), Julie Benbenishty (Israel), Dr. Bronagh Blackwood (Northern Ireland), Irene Harth (Germany), Kaisa Jakobsson (Finland), Drago Satosek (Slovenia) and Aleksandra Gutysz (Poland) are happy to announce that their editorial about the project 'Multi-cultural Care in European Intensive Care Units' will be published in the September issue in the British Nursing Journal 'Nursing in Critical Care' (http://onlinelibrary.wiley.com/doi/10.1111/nicc.12313/full)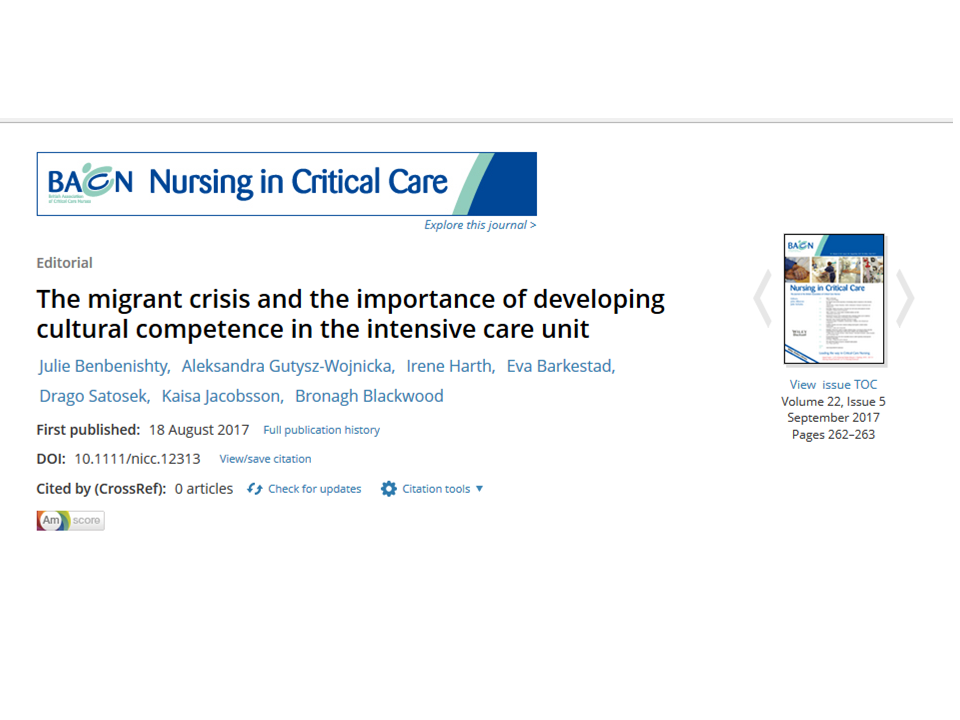 First milestone MICE-ICU Project reached
August 15, 2017
The ICU Nurses intercultural training needs and competencies analysis report is now available on www.mice-icu.eu
The comprehensive analysis report provides the results of the investigations which the project partners conducted in their countries (Poland, Slovenia, and Czech Republic) in order to estimate the needs and competencies of ICU nurses with respects to cultural sensitive care in intens
ive care units.
The paper reports in detail about the results of a literature research regarding this topic and gives an overview on currently existent or nonexistent intercultural aspects and trainings in nursing education and care in Poland, Slovenia and Czech Republic.
Almost 600 ICU nurses, mostly from the three countries mentioned above but also from broader Europe, answered a questionnaire about several aspects regarding the nursing care of a patient from a different culture. They were asked questions about their awareness and sensitivity towards
cultural competence, communication and behavior, their self-assessment on cultural competence and of course their educational needs in this area of care.
So far the results clearly show that there is a need for multicultural training courses for ICU nurses. According to the analysis of the nurses' responses and their descriptions of difficult situations, in a next step the project group is preparing a syllabus and curriculum for a respective E-learning course.