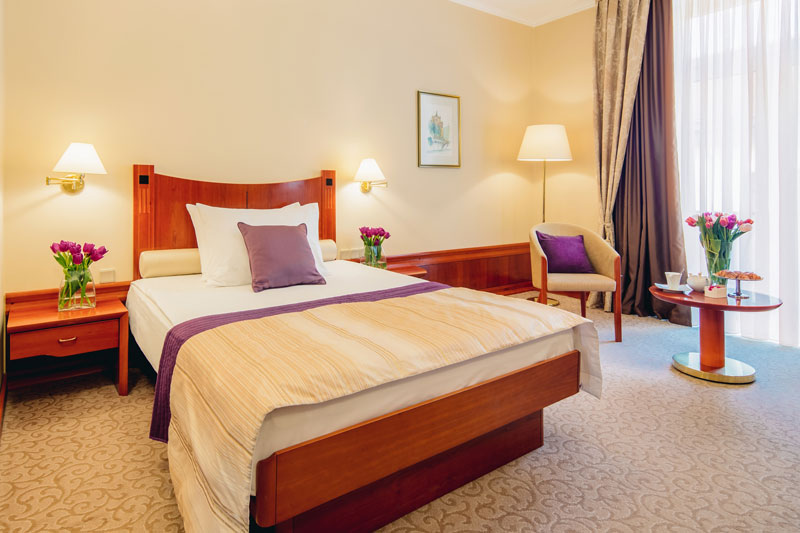 Guest rooms have been taken into option in various hotels. All offer special - reduced - rates to the EfCCNa Congress delegates.
Important!
Hotel bookings will be treated in order of receipt and can only be confirmed by availability.
Rooms need to be reserved and paid directly to the hotel. A deposit is required. Please see the (on-line) reservation conditions and cancellation policy of each hotel as specified on their reservation form or on the congress landing page of the hotel. For any questions, please also consult the hotels directly.
All the mentioned rates offered by the hotels are including breakfast buffet and VAT.
---
GRAND HOTEL UNION
Website: click here
Grand hotel Union has been chosen as Congress and HQ hotel during the EfCCNa Congress.
A limited of rooms have been reserved for EfCCNa from 13th February 2019 until Sunday 17th February 2019.
Rates:
Comfort room - Single occupancy / Bed & Breakfast / internet - € 125 per night
Comfort room - Double occupancy / Bed & Breakfast / Internet - € 135 per night
Deluxe room - Single occupancy / Bed & Breakfast / Internet - € 145 per night
Studio with a small kitchen - Single occupancy / Bed & Breakfast / Internet - € 145 per night
Studio with a small kitchen - Double occupancy / Bed & Breakfast / Internet - € 165 per night
Please note: a daily tax of € 3,13 per person is not included and will be charged onsite
Booking link: please click here
A credit card is required to secure the booking and payment is made directly at the hotel on arrival
Cancellation policy
Up to 5 days before arrival, no cancellation fee
Between 5 days prior arrival and non-arrivals will be charged for the entire stay
---
HOTEL LEV
Website: click here
Rates:
Classic room - Single occupancy / Bed & Breakfast / Internet - € 105 per night
Classic room - Double occupancy / Bed & Breakfast / Internet - € 125 per night
Please note: a daily tax of € 3,13 per person is not included and will be charged onsite
Booking link: please click here
A credit card is required to secure the booking and payment is made directly at the hotel on arrival
Cancellation policy
Up to 5 days before arrival, no cancellation fee
Between 5 days prior arrival and non-arrivals will be charged for the entire stay
---
CITY HOTEL
Website: click here
Rates:
Standard single room, single occupancy / Bed & Breakfast - € 90 per night
Standard double room, single occupancy / Bed & Breakfast - € 95 per night
Standard double room, double occupancy / Bed & Breakfast - € 110 per night
Comfort double room, single occupancy / Bed & Breakfast - € 105 per night
Comfort double room, double occupancy / Bed & Breakfast - € 120 per night
Please note: a daily tax of € 3,13 per person is not included and will be charged onsite
Booking link: please click here
A credit card is required to secure the booking and payment is made directly at the hotel on arrival
Cancellation policy
Up to 5 days before arrival, no cancellation fee
Between 5 days prior arrival and non-arrivals will be charged for the entire stay