From Wednesday 27 October 2021 - 08:00
To Saturday 30 October 2021 - 17:00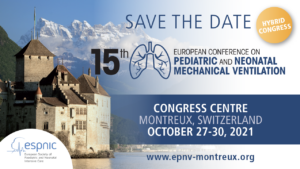 The 15th European Conference on Pediatric and Neonatal Mechanical Ventilation will again be in Montreux (Switzerland), which will continue to provide the unique and ideal environment for our meeting.
As in previous year, thematic sessions include lecturers by key experts and well known speakers on various topics related to ventilation and respiratory failure in new-borns and children.
We will continue to emphasize free paper and E-poster presentations offering young pediatricians, neonatologists, pediatric intensivists, pediatric anesthesists, a multidisciplinary forum where they can present their research and share their clinical experience with all participants. In addition, according to our strong commitment to education, we will offer again a series of precongress workshops that will focus on very practical bedside issues.
Location
Montreaux, Switzerland