Good bye, Adriano
March 29, 2016
Adriano Friganovic came to his first EfCCNa council meeting in 2002, which was held in Paris. At that time, he was only in the beginning of his twenties and the youngest person to serve on EfCCNa council, representing Croatian Nurses Society of Anaesthesia, Reanimation, Intensive Care and Transfusion. He was an ambitious young man and already the president of his association.
He was eager to learn from others, raised critical questions and participated in the ongoing work of the organisation.
On behalf of the EfCCNa family, thank you so much, Adriano for 14 years of dedication to EfCCNa.
Thank you for always being there, for hard work both at meetings and in between them.
For taking the responsibility for the Exchange Programme and serving as a member of the congress committee and in the sponsorship group.
We will certainly miss you at our meetings and the fun we have had over the years.
However, we understand that you are now heading towards a new role which will take up much of your time. We are very happy for you and wish you all the best of luck as the vice-president of the WFCCN. We still hope to see you from time to time and especially in Belfast !
EfCCNa welcomes Zaneta Bogoevska Miteva,MscN - the new Council Member of Macedonia
March 28, 2016
Currently Zaneta is the vice president of Macedonian critical care association of intenive care nursing.
Working in intensive care unit in Special Private Hospital "Filip Vtori", Skopje, Macedonia for the last 15 years.
Active as nurse educator, organizing workshops for mechanical ventilation for nurses;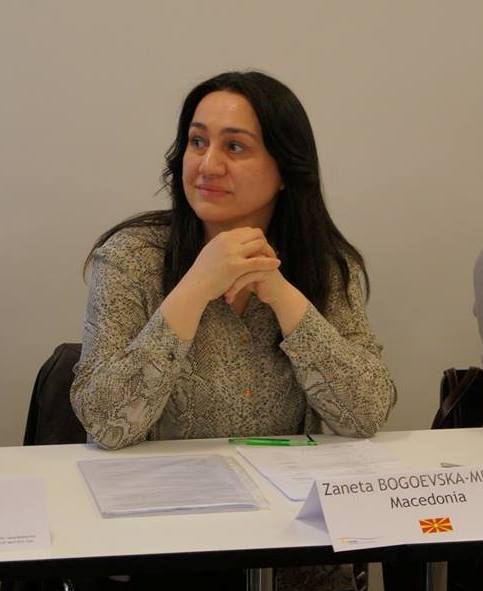 developing, promoting and supporting scientific research among the ICU nurses; standardization of everyday ICU nursing activities and procedures based on current guidelines and evidence based nursing and revision of existing standards annually; active role as intra hospital infection control nurse, part of IHI team; participant in many national and international nursing conferences,
receiving "Best practice award" EfCCNa congress in Belgrade 2013;
EfCCNa warmly welcomes Zaneta.
EfCCNa is proud to announce the 28th member association: The Critical Care Nursing Society of Macedonia
March 28, 2016
The association has been founded in 2011. The aims and goals of the association are:

- Development, promotion and support of scientific research in
critical care nurses;
- Development, education and promotion of ICU nursing through international experiences
and exchange of information;
- Playing active role of preventing diseases affecting the already existing ones;
- Organizing workshops, seminars and conferences;
- Participating in national and international nursing gatherings;
- Standardization of everyday activities and procedures in correlation with current
guidelines and evidence based nursing;
- Improving the professional and scientific level of nursing education;

The association has 150 active members coming from different nursing fields: intensive care, coronary care, scrub nurses, endoscopic nurses, accident and emergency, anesthetic nurses…

We all share those aims and goals and we hope that being together we can make the differences. Very happy to be a part of the EfCCNa family and looking forward to meeting other respected members of the federation and exchanging information.
Together we can achieve more……
EfCCNa welcomes new member association
March 25, 2016
Irish Association of Critical Care Nurses www.iaccn.ie
The IACCN was set up in September 1986 by a group of nurses working in critical care areas to meet with the educational needs of critical care nurses at that time. They organised educational meetings, comprising of educational evenings, study days and an Annual Conference every year.
Today, the member of the Executive committee, with help from the regional representatives, strives to continue the work of our predecessors. The representative is Eimear Fitzgerald.
Exchange Progamme 2016
March 25, 2016
The Exchange program was for us a great opportunity to show how there is one of the best intensive care in Europe. We had the opportunity to gain new experience and comparison of our knowledge and skills to the knowledge and skills of our Swedish colleagues. The level of nursing care in Sweden is high - Swedish nurses have the capacity and conditions to ensure that the patient be able to comprehensively cultivate. In intensive care it is very important to realize how important the interdisciplinary approach to the patient with the appropriate amount of staff among others in the prevention of infections, for the safety of patients and their welfare and safety of personnel. In Sweden, this consciousness exists. In addition, we had the opportunity to meet many wonderful people who served us help and tried to do everything that we benefited as much as possible during our stay in Karolinska Hospital and Danderyd Hospital.
Aurelia Sega, Ilona Nowak, Aleksandra Władymiruk from Poland