Eimear Fitzgerald - representative of the new Irish member society
April 13, 2016
Eimear Fitzgerald has over 10 years' experience in Critical Care nursing. For the past three years she has been the Critical Care liaison clinical nurse manager at the Mater hospital. During this time she has developed special interests in Critical Care follow-up incorporating Tracheostomy care, Parenteral Nutrition & Catheter Related Blood Stream Infections (CRBSI). She has presented research data on the above at local and international meetings.
She has a diploma in nursing studies, a degree in nursing science, a higher diploma in Critical Care nursing, and an MSc in Healthcare Management. As part of the MSc programme she looked at Critical Care sleep deprivation and successfully introduced a daily "Quiet Hour" in the ICU. Last year she completed a Professional Diploma in the Prescription of Medication and Ionising Radiation and is currently studying for a graduate certificate in advanced nursing pract
ice focusing on Critical Care follow up.
Eimear is an active committee member of the Irish Association of Critical Care Nurses and ICU Steps Dublin.
Good by and thanks, Evanthia
April 8, 2016
We are so sorry to lose you from the EfCCNa family! You have been an active and much loved member for a decade.
EfCCNa would like to sincerely thank you for the hard work and support to EfCCNa that you provided during your time as the representative from Cyprus.
Your contribution to EfCCNa was always freely given and warmly received
and we will miss you.
We hope that you keep in touch from time to time…and of course, we hope to catch up with you in Belfast in 2017!
Good bye, Adriano
March 29, 2016
Adriano Friganovic came to his first EfCCNa council meeting in 2002, which was held in Paris. At that time, he was only in the beginning of his twenties and the youngest person to serve on EfCCNa council, representing Croatian Nurses Society of Anaesthesia, Reanimation, Intensive Care and Transfusion. He was an ambitious young man and already the president of his association.
He was eager to learn from others, raised critical questions and participated in the ongoing work of the organisation.
On behalf of the EfCCNa family, thank you so much, Adriano for 14 years of dedication to EfCCNa.
Thank you for always being there, for hard work both at meetings and in between them.
For taking the responsibility for the Exchange Programme and serving as a member of the congress committee and in the sponsorship group.
We will certainly miss you at our meetings and the fun we have had over the years.
However, we understand that you are now heading towards a new role which will take up much of your time. We are very happy for you and wish you all the best of luck as the vice-president of the WFCCN. We still hope to see you from time to time and especially in Belfast !
EfCCNa welcomes Zaneta Bogoevska Miteva,MscN - the new Council Member of Macedonia
March 28, 2016
Currently Zaneta is the vice president of Macedonian critical care association of intenive care nursing.
Working in intensive care unit in Special Private Hospital "Filip Vtori", Skopje, Macedonia for the last 15 years.
Active as nurse educator, organizing workshops for mechanical ventilation for nurses;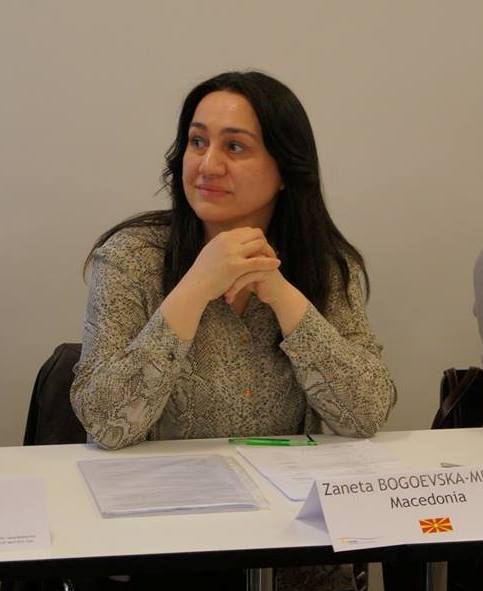 developing, promoting and supporting scientific research among the ICU nurses; standardization of everyday ICU nursing activities and procedures based on current guidelines and evidence based nursing and revision of existing standards annually; active role as intra hospital infection control nurse, part of IHI team; participant in many national and international nursing conferences,
receiving "Best practice award" EfCCNa congress in Belgrade 2013;
EfCCNa warmly welcomes Zaneta.