WFCCN lifetime fellow award 2016
June 27, 2016
New Sepsis Definition - Webinar
June 27, 2016
EfCCNa Award
June 18, 2016
The 2015 recipient of the EfCCNa Award for 2016 is Geraldine O'Gara (BACCN).
She works in the Royal Marsden in London as a research nurse in the Dept of Critical Care/ Nursing, Rehabilitation & Quality Assurance.
Here is a synopsis of her study.
Aims:
To qualitatively explore the needs of family members of patients with a chronic illness who are in critical care, and develop a family support intervention.
Research questions: What are the needs of families of patients with a chronic illness whilst in critical care and what resources might help?
Methods
Design: A qualitative exploration, using focus groups, of family members' needs, and development of content for a resource toolkit.
Congratulation!
7th EfCCNa Congress Belfast 2017
June 18, 2016
Important message about 2nd CC-DEN meeting
June 17, 2016
I have secured funding from the Northern Ireland Research and Development Office to hold a CC-DEN meeting on 15th February 2017 - the day before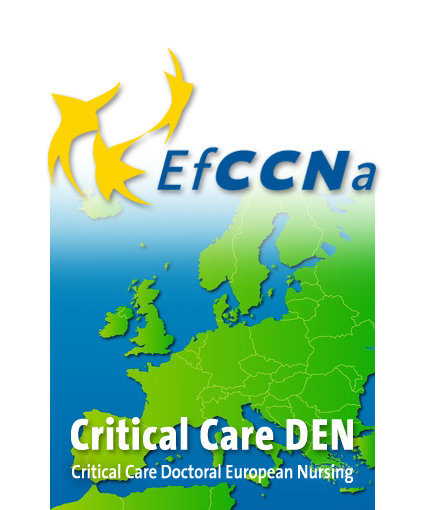 the EfCCNa congress officially starts. I would like to invite all members to attend.
We have an international faculty of high profile researchers who will be engaged in discussing their research areas and facilitating discussions.
The aim of the meeting is to bring together current members, and attract new members, to achieve the following objectives:
• To share subject and methodological knowledge and expertise
• To disseminate information on ongoing and planned research
• To enable building new collaborations
• To discuss strategic European grant applications
There will be approximately 12 speakers from the UK, Scandinavia, central and eastern Europe. The scientific programme will focus on critical care research of current CC-DEN members in improving ICU patient care across Europe to include:
• Communication and symptom control in ICU
• Delirium, sedation and pain prevention and management
• End of life care
• Mechanical ventilation strategies
• Patient/relatives' experiences within and post ICU
• Rehabilitation and follow up (physical and psychosocial)
There will be discussions on optimising research opportunities to work together in areas identified as research priorities by organisations such as EfCCNa and the James Lind Alliance (UK).
I would be grateful if you could let me know in advance if you are planning to attend because this is a separate venue from the Congress Hall and I need to plan catering.
Please confirm your attendance to b.blackwood@qub.ac.uk by 1st November 2016.
The venue is:
Queen's University Belfast
The Wellcome Wolfson Building
Centre for Experimental Medicine
97 Lisburn Road
Belfast, BT9 7BL
Dr Bronagh Blackwood
EfCCNa President / Chair of CC-DEN