1st World Sepsis Congress
August 28, 2016
Dear Colleagues and Friends
The 1st World Sepsis Congress is a free global not-for-profit online congress and brings together over 70 worldwide experts on sepsis. Among them: Derek Angus, Deborah Cook, Jon Cohen, Luciano Gattinoni, Margaret Herridge, Didier Pittet, Peter Pronovost, Kevin Tracey, Jean-Louis Vincent and key representatives of the CDC, WHO, and Médecins Sans Frontières. Several sessions are dedicated to quality improvement and state of the art of sepsis diagnosis and management.
The opening session with Helge Braun, Minister of State, Germany, Marie-Paule Kieny, Assistant Director-General, WHO,
Achim Steiner, Under-Secretary General United Nations, is just one of the many highlights of this event.
The #wsc16 takes place completely online on September 8th and 9th, 2016. Participation is free of charge and requires only a short registration prior.
As of today, we have received more than 6,000 registrations from 120 countries. You definitely must not miss this event including its opening.
For more information, registration and the message by the German Minister of Health visit www.worldsepsiscongress.org
Kind regards,
Konrad Reinhart & Simon Finfer
Program Chairs
Position Statement on Culturally Sensitive Care Nursing
August 22, 2016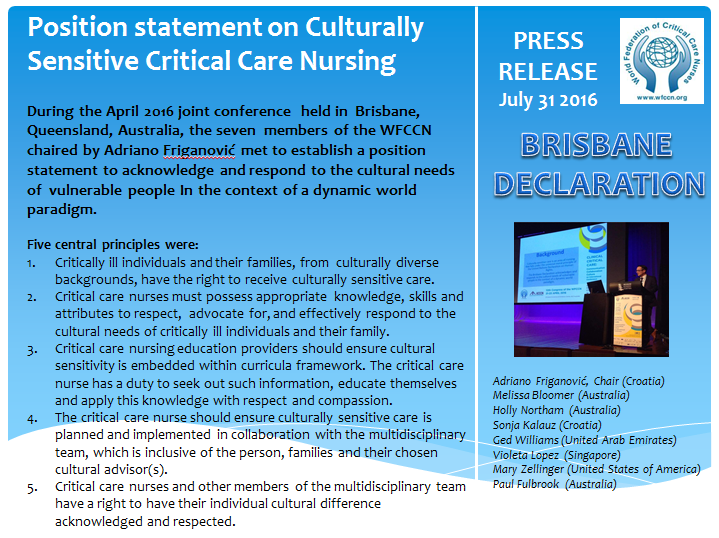 Connect - The World of Critical Care Nursing
July 13, 2016
Today, the latest issue of connect has been released, and is now available at connectpublishing.org.
Special communication app for ICU patients
July 7, 2016
The department of Intensive Care of the Radboud University Medical Centre in Nijmegen, the Netherlands, has developed a special communication app for the adult and pediatric ICU patients, who cannot speak because of an intubation, being on a ventilator or breathing through a tracheostoma.
The app, called voICe, was released in May 2013 and has been used in the Radboud University Medical Centre and 100 other hospitals in the Netherlands & Belgium ever since.Many improvements have been achieved, and in May 2016, a special enlarged keyboard for the write canvas and a translation in the English language were launched.
We invite you and your colleagues to visit the website www.voice-intensivecare.comand meet the app and its communication possibilities for your ICU patients.
Please be so kind to spread the news about the app voICe in your country.
VoICe is available in the European App Store,
see tags 'voice intensive care',
'voice' or 'intensive care'.
Availability in the USA, Canadian and
Australian app Store will follow soon.
Willem Roudijk,
Patient Care Advisor
Radboud UMC
1st World Sepsis Congress 2016
June 29, 2016
The 1st World Sepsis Congress will take place completely online on September 8th and 9th, 2016, as a prelude and introduction to the fifth World Sepsis Day on September 13th, 2016.
Participation is open to everyone with an internet connection and free of charge.